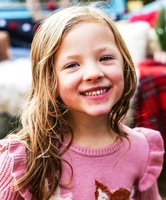 Annabel Rae "Annie" Whittingham
Annabel Rae Whittingham "Annie"
Annie gained her angel wings on Thursday, August 29, 2019, at age 5
Annie was a beautiful little girl with golden ringlets of hair that cascaded down her back, unforgettable baby blue eyes, and the sweetest smile that lit up her entire face.
Annie adored her big sister, Sadie, all of her many cousins and friends, and of course her dog, Willow. She was happiest when swimming at the pool, playing soccer, and surrounded by her American Girl Dolls.
Annie was known by her family to be vibrant, loving, and was kind to everyone she encountered. Nobody gave a better more welcoming hug than Annie. To know Annie, was to love her.
Precious daughter of Stephen and Abagael S. Whittingham; sister of Sadie Jane Whittingham; granddaughter of Bob and Cindy Whittingham and Barney and Claudette Silverman; niece of Corrie & Effrum Garnett, Megan & Justin Sigal, Seth & Annina Silverman, and Bryce & Natalie Whittingham; cousin of Quintin, Zoie, Luke, Cooper, Jax, Leo, Cami and Livie.
Friends received at McCabe Bros., Inc. Funeral Home, 6214 Walnut Street, Shadyside on Monday, 2-4 and 6-8 pm. A Celebration of Life Service will be held at Fox Chapel Presbyterian Church on Tuesday at 3 pm. In lieu of flowers, the family suggests donations to Memorial Fund for Annie Whittingham, www.gofundme.com/f/memorial-fund-for-annie-whittingham. Condolences may be offered at www.mccabebrothers.com.