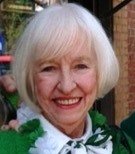 Obituary of Geraldine Leuenberger
Leuenberger
Geraldine "Deanie" Murray Caputo
Geraldine "Deanie" Murray Caputo Leuenberger, 88, of Pittsburgh passed away peacefully and surrounded by love on Wednesday, July 25, 2018. The daughter of the late Dr. Paul A. Murray and Marie Scott Murray, and sister to the late Betty Jane Holmes and Paul A. Murray, Deanie was a light in the lives of all those whose paths she crossed.
When she wasn't dancing to Tom Jones with her daughters who she lovingly called "The Three C's", she devoted her life to lifting up all those around her. Starting her teaching career at Winchester Thurston and eventually filling the shoes of Adaptive Aquatic Instructor at Western Pennsylvania School for Blind Children, Deanie spent 33 years inspiring her students to believe that no dream was too big. A sentiment that proudly shown through when she spearheaded their involvement in the Special Olympics on numerous occasions.
She was the embodiment of the notion that we are all better together – leading the Peabody High School Fabulous 40s Reunion as a proud graduate and bringing old and new friends together year by year, whether around town or in her home. Several Steelers games were excitedly watched, several Skip-Bo games were played, and several holiday parties were unmatched when Deanie was the leader of them all. If one thing is certain, her exuberant spirit will be forever celebrated.
The beloved mother of Cindy Marie Greco, Connie Lee "TeeTee" Leone, and Cathy Lynn (Paul) Hoydich, Deanie is also survived by 7 grandchildren (Tiffany, Christina, Brittany, Kayla, Ashley, Dominique, Gerad), 3 great-grandchildren (Braden, Abriella, Lincoln), and several loving nieces, nephews, cousins, family, and friends whose lives she touched. Lovingly remembering the late Louis "Buddy" Caputo, Jr., the late Robert Leuenberger and the late Perry Thomas, and those she held dearly - her sons-in-law, Dominic Leone and Chuck Greco.
Visitation Sunday, July 29th, 2-7pm at McCabe Brothers Funeral Home Shadyside –
6214 Walnut St. Pittsburgh, PA 15206. 412-661-6281. A private funeral service will be held on Monday. In lieu of flowers, donations can be made to Western PA School for Blind Children at www.wpsbc.org. Condolences may be left at www.mccabebrothers.com