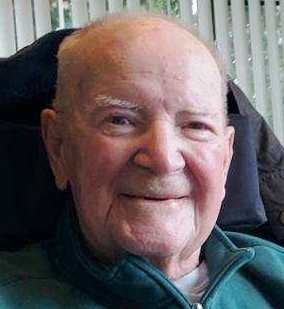 Obituary of William Hurley
HURLEY
WILLIAM PATRICK "UNCLE BILL"
Age 92, of Point Breeze, passed away at his home at Southwestern Veteran's Center surrounded by family. Born April 12, 1926 in Pittsburgh, he was the son of the late Dennis and Bridget (Hennessey) Hurley, brother of the late John (Frances), Dennis (Laura), Jim (Ann), Neal (Gloria), Dan (Mary) and Mary (Coleman Conroy). He was predeceased by his loving companion of 40 years, Betty Boston. Bill is survived by numerous nieces and nephews. Raised in the Homewood neighborhood of Pittsburgh, he attended Holy Rosary Elementary School, and graduated from Central Catholic High School. Bill attended one year at Penn State before he attended the Police Academy and became a City of Pittsburgh police officer. He rose to have a distinguished career as a detective, and spent many years as a crime scene photographer. He used those skills to chronicle his family's lives with his love of photography. Bill completed his career leading a homicide squadron and retired as one of the last Gold Badge detectives of the Pittsburgh Police Department.
Bill served with the U.S. Army as an Officer in Japan during WWII from 1944 through 1946.
Uncle Bill, as he was fondly known to all, was an avid golfer until he assumed parenting duties for his sister Mary's children when she died early in life. He made Point Breeze his home, is loved beyond words for his unselfish sacrifices on behalf of the Conroy children, many nieces and nephews as well as other neighborhood friends.
Bill was a proud member of the FOP, AOH, and VFW. He could be found on most Thursday evenings at the Morningside VFW with friends and colleagues. Bill was a member of Holy Rosary, St. Bede and St. Catherine's of Sweden Catholic parishes.
Bill's family will receive visitors at McCabe Brothers Funeral Home, 6214 Walnut Street, Shadyside on Friday from 2-4 pm and 6-8 pm. A Mass of Christian Burial will be held at St. Bede Church on Saturday at 11 am. Condolences may be left at www.mccabebrothers.com