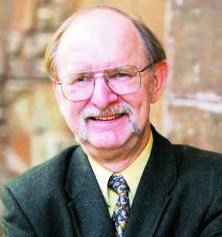 Obituary of David W. Miller
David William Miller, Phd
Carnegie Mellon Professor Emeritus in History and an internationally recognized scholar of Irish and religious history, died on Sunday, October 20, 2019 after a long battle with Alzheimer's dementia. The Point Breeze resident was 79 years old.
Miller was born 7/9/1940 in Coudersport, PA to Arthur C. Miller and Kathryn Long Miller. At a young age he moved with his family to Jackson, MS. He received his bachelor's degree in English in 1962 from Rice University in Houston. While at Rice he met his future wife Margaret Vick Richardson, with whom he was arrested at a civil rights demonstration at the Houston railroad station - to the consternation of their parents at the time. Fifty years later they were invited back to Rice University for the anniversary of the charter that allowed admission of non-whites.
While studying for a Master's in English at the University of Wisconsin, David took courses in Irish literature and, through them, came to develop an interest in the history of Ireland. He opted to pursue a PhD in History at the University of Chicago. There, he studied under Emmet Larkin, an eminent historian of Ireland, who like David, had a deep interest in the history of religion; he would become a good friend and mentor. David's dissertation would, in time, become an important book, Church, State, and Nation in Ireland, 1898–1921 (Gill and Macmillan, 1973), which was warmly reviewed in professional journals and the Irish press. Shortly after joining the faculty at Carnegie Mellon University in 1967, the Irish Troubles erupted - and from 1969–98 resulted in some 3,700 deaths. To conduct his research, David had to spend much time in Belfast, the cockpit of violence and death, and there he took an interest in Ulster loyalism, leading to a second major book, Queen's Rebels: Ulster Loyalism in Historical Perspective (Gill and Macmillan, 1978); reflecting its enduring importance, University College Dublin published a second edition in its Classics of Irish History series in 2007. From the 1980s through the 2010s, David continued to produce first-rate work, much of it at the intersection of History and the harder social sciences. Indeed, in the somewhat conservative field of Irish History, he was one of few scholars to carry out sophisticated quantitative research on topics ranging from Irish Catholic mass-attendance to social inequality. He contributed to all the leading journals in Irish History, but also to journals with a broader remit, such as the Journal of Social History, Past and Present, Social Science History, and the Journal of Interdisciplinary History. An international reputation as a leading scholar of Irish history brought graduate students from Ireland - at the recommendation of their academic advisers - as well as across the country to Pittsburgh to study with Dr. Miller at Carnegie Mellon University. His graduate students include Peter Gilmore, author of Irish Presbyterians and the Shaping of Western Pennsylvania, 1770–1830 (University of Pittsburgh Press, 2018), Breandán Mac Suibhne, author of The End of Outrage: Post-Famine Adjustment in Rural Ireland (Oxford University Press, 2017), and Jay Roszman, who is completing a book on Outrage in the Age of Reform: Irish Agrarian Violence, Imperial Insecurity, and British Governing Policy, 1830–1845.
In addition to his historical research, he was a dedicated teacher and took great pleasure in sharing his love of history with students. One of his great passions was the study of maps and
he developed a computer program called the Great American History Machine (GAHM) to use census data and election data to analyze historical questions.
David Miller was also a long-time and active member of Sixth Presbyterian Church and served as a ruling elder. As a church officer he championed selling an option on the land adjacent to the church that provided the money to work on church building repairs, including protecting the beautiful stained glass windows. David sang in the church choir under many different directors. For many years he coordinated weekly meals for the men's shelter at East Liberty Presbyterian Church, frequently cooking meals with his wife and often serving them. As the Sixth Church historian he wrote "The Corner Where You Are: A Sesquicentennial History of The Sixth Presbyterian Church of Pittsburgh, 1850-2000".
He is survived by his wife Margaret Miller, daughter Roberta Miller and grand-daughter Abigail Miller-Peterson.
Memorial Service will be held Saturday, October 26, 2019 at 2pm at Sixth Presbyterian Church. In lieu of flowers, the family asks that you consider donating to either Habitat for Humanity or Sixth Presbyterian Church. Condolences may be left at www.mccabebrothers.com.