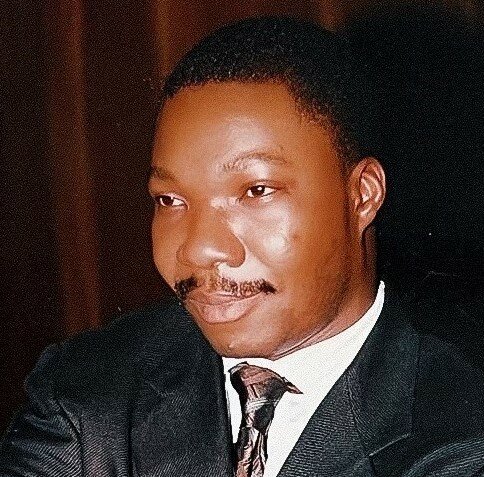 Obituary of Dr. Damien M. Pwono
It is with great sadness that we announce the death of Dr. Damien Mandondo Pwono, our beloved husband, father, uncle, and teacher who dedicated his life to the service of others. Damien passed away on March 7, 2023, surrounded by his loving family after a valiant response to colonic cancer. His legacy will forever be held aloft in our hearts in his community of Pittsburgh, Pennsylvania, in his home country the Democratic Republic of Congo, and indeed across the world.
Damien was born on August 10, 1959, the first child of Léon Pwono and Claire Lunga Mulema. His affinity for music was recognized at a very early age, and he was encouraged to pursue his gifts. He attended the high school Institute National des Arts (INAS) and the related INA university in Kinshasa. With the encouragement of his mentor, the late great J.H. Kwabena Nketia, Damien was selected for a fellowship to attend the University of Pittsburgh, where he obtained his Masters in 1986 and PhD in 1992, both in ethnomusicology.
He and his beloved Meta were betrothed in Congo in 1984 and married at the Sacred Heart Church in Pittsburgh in 1987. They were blessed with two sons, Hussein in 1988 and Henry in 1991, who were the center of their lives.
At the Rockefeller and Ford Foundations and after his appointment as secretary general of the International Music Council of UNESCO in Paris, his contributions to groundbreaking initiatives, such as the Institute for Cultural Enterprise, the New York African Film Festival, the Oman Opera House, and the African Union's cultural observatory, were well recognized as being innovative and pioneering. His final legacy project, assisting the Congolese government with the construction of a state-of-the-art, regional cultural center based in Kinshasa, is a testament to his pronounced passion for the education of young people, for the place of the arts and culture in promoting peace, and for bettering lives for ordinary people, as well as his commitment to the advancement of pan-African ideals.
Damien Pwono is survived by his wife Meta, sons Hussein and Henry, his brothers Robert, Jules (deceased), Léon, Muke and Ngamundele, and his sister Manunga Jolie. He also leaves behind his sisters-in-law Rita Kafutshi and Banungu Marielou Kazadi, and a host of extended family, including aunts, uncles, nephews, and nieces and dear friends in the DRC, France, and all around the world.
A viewing will be held on Friday, March 17, 2023, from 3.00 p.m. to 7.00 p.m. at McCabe Bros Funeral Home
6214 Walnut St, Pittsburgh, PA 15206
A celebration of life will be held (in person and virtually) — March 17, 2023, at 7.00 p.m
To access the Livestream click on this link: https://fb.me/e/3m7EkiHXA?mibextid=RQdjqZ
A Mass of Christian Burial will be held on Saturday, March 18, 2023, at 10.00 a.m at St. Jude Parish, Sacred Heart Church, 310 Shady Ave., Pittsburgh, PA 15206
In lieu of flowers, contributions in his memory may be made to the Damien Pwono Fund set up by the family.
Checks may be made payable to Ms Meta Pwono, c/o PNC Bank 5601 Walnut St, Pittsburgh, PA 15206) — or via Zelle to Mr Hussein Pwono, tel +14123782997