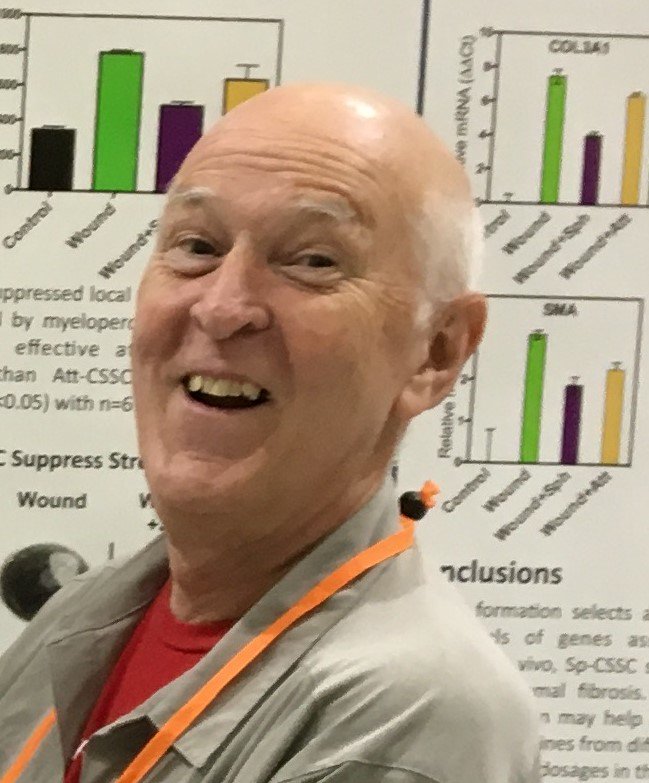 Obituary of James L. Funderburgh, III
Jim Funderburgh—much loved husband, father, grandfather, brother, scientist, musician, and outdoor adventurer—died quietly at home of pancreatic cancer in Squirrel Hill surrounded by his family on Wednesday, November 27, 2019. Born in Manhattan, Kansas, in 1945, Jim grew up in Austin, Texas, and in 1965 married his high school sweetheart, Martha Cunningham. They traveled north to Minnesota and then Wisconsin where he earned his PhD in biochemistry. He and Martha made homes in Seattle, WA, Geneva, Switzerland, and Manhattan, KS, before settling in Pittsburgh in 1999.
Jim was Professor of Ophthalmology at the University of Pittsburgh School of Medicine. Working with Martha as research partner and best friend, he specialized in research on corneal scarring and pioneered the use of stem cells to clear scarred corneas, first in mice and ultimately in humans with colleagues in India. His innovative achievements were recognized by Research to Prevent Blindness, and the continuing project for corneal regeneration will now bear his name. Jim generously shared his knowledge with colleagues, post-docs, and students - undergrad, graduate and medical - many of whom have gone on to successful careers.
A committed athlete, Jim enjoyed running, climbing, hiking, biking, and canoeing with friends and family. He ran numerous marathons including Pike's Peak and New York, and climbed mountains in the US, Europe, and Africa. He and Martha are longtime members of the Sylvan Canoe Club. His adventures continued even in the years after his cancer diagnosis, including annual kayaking trips to Georgian Bay, Ontario.
Music has been a passion since childhood. Jim sang in choirs and played trumpet in groups across the country and in Europe. In Pittsburgh, he and Martha made beautiful music in East Winds Symphonic Band, Edgewood Symphony Orchestra, opera pits, Gilbert and Sullivan operettas with Pittsburgh Savoyards, and the choir of Sixth Presbyterian Church.
Jim will be missed most not for his many accomplishments, but for his ready laugh, his joyful energy, and his endless supply of bad puns.
He is survived by his wife, Martha, sister Susan Jarratt of Irvine, CA, brother John Funderburgh of Dallas; three children – Dan Funderburgh of Brooklyn (Jenny), Anna Funderburgh (Mikael), St. Paul, and Eva Funderburgh Hollis (Ben) of Seattle; and four grandchildren, Jonas, Sebastian, Niko, and Alice.
A memorial service will be held at Sixth Presbyterian Church, corner of Forbes and Murray, on Saturday, February 1st at 2 pm. Donations may be made to Allegheny Land Trust, Eye and Ear Foundation of Pittsburgh, or to your favorite musical organization. Condolences may be left at www.mccabebrothers.com